History
The 70's


Lady Bug Stallion Station
Founded in 1970, the Ladybug Stallion Station was built by Marvin and Lela Barns in Madill, Oklahoma following the retirement of their great runner Lady Bug's Moon.
The previous two racing seasons had seen Lady Bug's Moon win the 1968 Kansas Futurity and place second by a nose in the All American Futurity as well as win the Rainbow Derby in 1969.


Sonny & Weetona Stanley
Marvin & Lela Barnes
A state-of the art the facility, the structure featured more than 150 stalls and individual paddocks for mares coming to the court of Lady Bug's Moon and a young son of Top Deck, Brisk Deck.
An industry leader in many breeding innovations over the years, Ladybug Stallion Station was one of the first farms in the industry to begin placing mares under lights.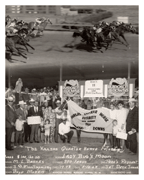 1968 Kansas Futurity
Lady Bug's Moon
The Barnes' needed a place to stand their top stallion prospect and they needed personnel they could trust with such an investment. Barnes' turned to Lela's brother A.F. "Sonny" Stanley, Jr. and his sons, Stan, Steve and Fred.
Ladybug Stallion Station continued to prosper into the mid seventies with a reputation for getting mares in foal and breeding a record number of mares to Lady Bug's Moon. He rewarded his followers by siring the Blue Ribbon Futurity winner Jerry's Bug in his first crop and becoming an all-time leading sire of money winners.

Champion Aged Stallion
Heza Charger
Ladybug's Stallion Station's other stud, Brisk Deck, also had success in the breeding shed siring Champion Heza Charger SI 109 from his 1972 crop. Following a career that saw Heza Charger earn more than $300,000 he was retired to the Ladybug Stallion Station to begin his stud career.
In 1975 the Lady Bug blood continued to dominate the industry when Bug's Alive In 75 won the All American Futurity for Ralph & Betty Shebester. Bug's Alive In 75 was out of a granddaughter of the great broodmare FL Ladybug who produced the likes of Lady Bug's Moon, Top Ladybug, Barnes Ladybug, Leo Showman, Lady Lasan, Lady Bug Leo and more.


Bug's Alive In 75
winner of the 1975
All American Futurity
The late seventies brought many changes. Marvin & Lela sold Lady Bug's Moon to Pizza magnet George Middleton and AF "Sonny" Stanley, Jr. purchased The Lady Bug's Stallion Station from the Barnes.
Heza Charger as well as a host of other young well-bred stallions made up the roster at The Ladybug Stallion Station into the early eighties.
The 80's


Leading Broodmare Sire
Lady Bug's Moon
By 1980, Lady Bug's Moon had began to stamp himself as one of the industries most prolific broodmare sires in history and this never rang more true than Labor Day 1982. Marvin and Lela Barnes were back in the winner's circle with a 2-Year-Old Maser Hand TB colt, Mr. Master Bug. Not only did they just win the world's richest race, they also ran second with a Master Hand filly. Both two-year-olds were out of daughters of Lady Bug's Moon.

Mr Master Bug &
Miss Squaw Hand run 1-2
in the All American Futurity!
At the time, the $1.4 million payoff was the largest one day payoff in sports history with the exception of professional boxing.
Mr. Master Bug raced through his four-year-old year being named Champion each season and earning more than $1.7 million. In 1985 he retired to Ladybug Stallion Station in Madill and took the stall of his grandfather Lady Bug's Moon had once had.

Disco Jerry TB
Race sire earnings of more
than $2 million.
Champion Barrel Sire
Sonny Stanley and his sons had put together one of the country's best set of Lady Bug's Moon daughters during the previous decade. In 1983 Sonny Stanley entered into a foal sharing agreement with the legendary B.F. Phillips, Jr. One of Sonny's foundation mares, First Prize Rose, a granddaughter of Lady Bug's Moon, was bred to Dash For Cash. Like all of Phillip's foal sharing agreements the offspring, a sorrel blaze faced colt, was offered as a yearling in the 1985 Phillips Ranch Sale.
Another industry legend, Mildred Vessels owner of Los Alamitos Race Course and Vessels Stallion Farm, entered the picture and


The Industry's Leading Sire
First Down Dash purchased the yearling for $97,000. This was the first yearling ever purchased at public auction by Vessels Stallion Farm. His name was First Down Dash.
First Down Dash won 13 of 15 starts and was named World Champion in 1987 while earning more than $857,000. He entered stud in 1988 and has become the industries most prolific sire. With earners of more than $50 million and climbing he has sired numerous champions and an unheard of four All American Futurity winners and 30 champions. His sons and grandsons continue to dominate as sires themselves.


Send The Gals Candy
qualifies for the
All American Derby
Also in the 80's Sonny Stanley introduced the industry to a new thoroughbred stallion, bringing Disco Jerry TB to stand at the Ladybug Stallion Station. He sired earners of more than $2.4 million at the track including Send The Gals Candy SI 105 ($295,000), Imafastermaster SI 97 ($222,655), etc. He also sired Champion barrel horse Fleet Feet Flying ($150,000). Disco Jerry is the dam sire of 1999 2-Year-Old Oklahoma Champion Dash Del Rey SI 92 ($92,099).

Dash For Perks
winning the 1989
All American Futurity
Consolation
2000 All American
Congress Barrel Champion
Dash N Sparks

Dash N Sparks
2000 NBHA
World Champion Finalist
The 90's


Heza Fast Dash sets the
fastest qualifying time for
the $450,000 G1
Remington Park Futurity
1990 brought a new era to the Lady Bug's Stallion Station with the introduction of a son of Dash For Cash--Dash For Perks. From a family of champions, he has sired earners of more than $2.5 million including 1999 Champion 2-Year-Old in Oklahoma Dash Del Rey.
AF "Sonny" Stanley, Jr. lost a battle with cancer in 1993 and his wife Weetona, along with her three sons, took over the reins of Lady Bug Stallion Station.

2002 Grade 1
Heritage Place Futurity
Winner Fast First Prize
The 90's also saw Dash For Perks take the barrel racing industry by storm with his first performer, He Is Slippin, being named Reserved Champion at the $500,000 Old Fort Days Futurity.
The 00's

The new millennium got off to a great start for the Ladybug Stallion Station when it's 2-Year-Old Heza Fast Dash won the Grade 2 Blue Ribbon Futurity and finished a close second in the Grade 1 $450,000 Remington Futurity and earned more than $120,000 as a juvenile.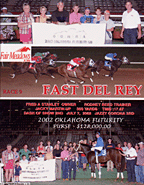 2002 Grade 2 Oklahoma
Futurity Winner
Fast Del Rey Heza Fast Dash, by Champion Heza Fast Man, is out of a full sister to First Down Dash. Heza Fast Dash is the first graded stakes winning stallion from this prolific sire line to retire to stud since First Down Dash in 1988.

He was sold to a group who stands the young stallion at Robicheux Ranch in Breaux Bridge, LA. The young sire's first crop hit the track in 2006. Heza Fast Dash has consistently been a top the "Leading First Year Sires of Money Earners" list since March.




2006 Grade 1
Heritage Place Futurity
Winner First Carolina In 2002 two home-bred fillies, Fast First Prize and Fast Del Rey, both won graded futurties. Fast First Prize took the $455,990 Heritage Place Futurity on June 1st. Fast Del Rey put Fred Stanley in to the winner's circle of the Grade 2 Oklahoma Futurity, a race his uncle and aunt, Marvin & Lela, had won 35 years earlier with Top Ladybug.






A 2006 Leading
First Year Sire
Heza Fast Dash 2006 is also turning into another banner year at the track for the Stanley bred 2-year-olds. First Down Dash's full sister, First Prize Dash, added her third grade 1 stakes winner when she produced the only twin grade 1 stakes winners ever.

She was bred to Champion and leading sire Mr Jess Perry in 2003 and produced twin embryos. The first of the two fillies, First Prize Robin, has earned nearly $300,000 through June of 2006 while winning the grade 1 Remington Park Futurity and finishing fourth in the Grade 1 Ruidoso Futurity. Her twin sister First Carolina is undefeated in three starts through June of 2006 earning in excess of $293,000 and winning the grade 1 Heritage Place Futurity.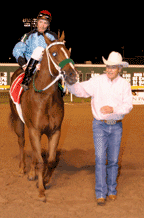 First Prize Robin
Winner of the G1
Remington Park Futurity Dash For Perks continues to be one of the top barrel horse sires in the Nation ranking in the top by Average Earnings Per Starter in 2002, 2003, 2004, 2005, 2006 and 2007.
In 2006 the Stanley's Lady Bug Stallion Station made history by being the breeders of the 2006 Nation's Leading Sire and 2006 Nation's Leading broodmare. First Down Dash and First Prize Rose both bred and raised by the Stanley's marked the first time one breeder took both honors in a single year.
In 2006, as breeders, the Stanley's were second only to Vessels Stallion Farm in number of champion nominees on the official AQHA Champion ballot.

Grade 1 Winner
First Carolina
2007 started as a bang with Dash For Perks offspring winning the 2007 Speedhorse Barrel Derby and Stanley's owned and bred First Carolina winning the $222,000 Remington Park Derby(G2). Stanley's also bred two finalist to the $546,420 Remington Park Futurity(G1), including third place finisher and fastest qualifier Oh Cherokee Rose.

In 2008 Fast Prize Zoom, a granddaughter of First Prize Dash set two world records for 300 yards in her first two starts included winning the grade 1 West Texas Futurity in :14.678 seconds. She was named the Sunland Park Horse of the Meet.

2009 has seen Heza Fast Dash emerge was one of the industry's leading sires. With four crops to race he has sired over $4 million in earners with average earnings per starter of just under $30,000. Another daughter of First Prize Dash, First Prize Leesa by Mr Jess Perry, won the grade 1 Remington Park Futurity(G1) in April and has earned more than $372,000.

First Prize Dash, her half-sisters, daughters and granddaughters, graze the pastures of the Ladybug Stallion Station broodmare band today. All of them carry the blood of Lady Bug's Moon somewhere in their pedigree.




First Carolina
Winner '07 Remington
Park Derby (G2) With the genetics of Lady Bug's Moon, Disco Jerry TB and Dash For Perks, all great race sires and great barrel sires, Stan, Steve and Fred Stanley continue in their father's footsteps as caretakers of the Ladybug Stallion Station, steeped in history, but always looking to the future.

With several yearlings and weanlings out of First Prize Dash by such leading sires as Corona Cartel, Mr Jess Perry, Shazoom, Finding Nemo and more that future looks brighter than ever!