Dash For Perks
Dash For Cash x Perks, by Easy Jet
2018 Fee: $2,500 - ICSI Procedure

Standing at THREE LOCATIONS:

WINNER'S CIRCLE EQUINE
Beck Rick DVM
39185 Diamond Valley Road
Hemet, California
(951) 6634026
Email: info@infoal-inc.com

EQUINE MEDICAL SERVICES
Rob Foss DVM
5851 Deer Park Road
Columbia, MO 65201
(573) 443-4414
Email: equinemedical@aol.com

EQUIEMBRYO
Young Ho Choi DVM
3601 NE Loop 820, Suite 150
Fort Worth, TX 76137
817-386-5900
Email:info@equiembryo.com

* * * * * * * * * * * * * *

No Booking Fee
$2,500 Fee Payable Upon Pregnancy

* * * * * * * * * * *

CLICK HERE to watch The Story of ICSI.





Spit Curl Jess
Mr Jess Perry x Lil Spit Curl, by On A High
2018 Fee: Reference Sire

Standing at
Louisiana Center for Equine Reproduction
Opelousas, Louisiana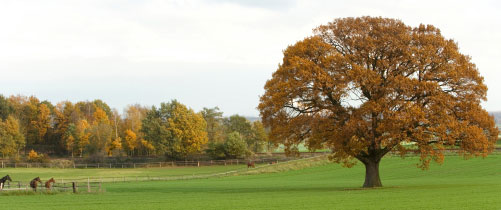 THE PRIZE FERARRI RETURNS TO WIN $45,000 JOHN DEERE POCATELLO JUVENILE CHALLENGE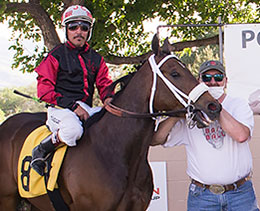 POCATELLO, ID—SEPTEMBER 20, 2020—Stakes at Pocatello Downs on Sunday concluded with two regional Challenge qualifiers, starting with the $45,000 John Deere Pocatello Downs Juvenile Challenge.
The Prize Ferarri ($3.20) was an impressive winner of the regional Juvenile qualifier. The gelding led throughout the race... Read More


THE PRIZE FERRARI TOPS JOHN DEERE POCATELLO JUVENILE CHALLENGE TRIALS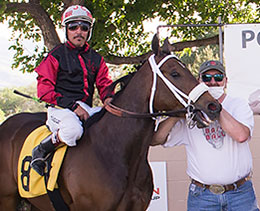 POCATELLO, ID—SEPTEMBER 5, 2020—
After two trials on Saturday afternoon,
The Prize Ferrari
was the fastest qualifier to the John Deere Pocatello Juvenile Challenge.
The Prize Ferrari ($4.60) and Jesus Canales won the first of two trials in :17.635 and earned a 95 speed index. The Mark Hanson trainee led gate-to-wire... Read More


FERRARI JAMES GETS SECOND KEOKUK STAKES WIN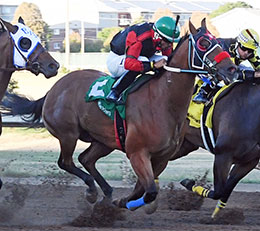 ALTOONA, IA—AUGUST 29, 2020—
After finishing second in the Prairie Meadows $35,000 Keokuk Stakes(G3) last year,
Ferrari James
surged between foes to get his second win the Iowa stakes on Saturday.
Under jockey Jorge Torres, the 7-year-old son of multiple stakes sire Ivory James, drove between Jk Wildcat and Three Olives N... Read More


POWER PRIZE SECOND FASTEST IN GILLESPIE COUNTY FAIR FUTURITY TRIALS

FREDRICKSBURG, TX—AUGUST 8, 2020—
Power Prize
, a 2-year-old son of leading sire Valiant Hero posted the second fastest qualifying time from five trials Saturday for the $147,500 Gillespie County Fair Futurity.
Power Prize, was a nose winner in the fourth trial to record the second fastest qualifying time of :17.851... Read More


KATCH THIS BIRD SECOND IN $100,000 RAINBOW QUARTER HORSE INVITATIONAL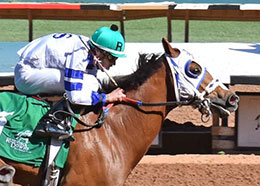 RUIDOSO DOWNS, NM—JULY 18, 2020—
Katch This Bird
, a 3-year-old
Weetona Stanley
Oklahoma-bred just missed by a neck off Love Is Everything V to finish second in the $100,000 Rainbow Quarter Horse Invitational Saturday at Ruidoso Downs.
Ridden by jockey Raul Valenzuela, Katch This Bird earned $18,000 for finishing second.... Read More