Dash For Perks
Dash For Cash x Perks, by Easy Jet
2018 Fee: $2,500 - ICSI Procedure

Standing at THREE LOCATIONS:

WINNER'S CIRCLE EQUINE
Beck Rick DVM
39185 Diamond Valley Road
Hemet, California
(951) 6634026
Email: info@infoal-inc.com

EQUINE MEDICAL SERVICES
Rob Foss DVM
5851 Deer Park Road
Columbia, MO 65201
(573) 443-4414
Email: equinemedical@aol.com

EQUIEMBRYO
Young Ho Choi DVM
3601 NE Loop 820, Suite 150
Fort Worth, TX 76137
817-386-5900
Email:info@equiembryo.com

* * * * * * * * * * * * * *

No Booking Fee
$2,500 Fee Payable Upon Pregnancy

* * * * * * * * * * *

CLICK HERE to watch The Story of ICSI.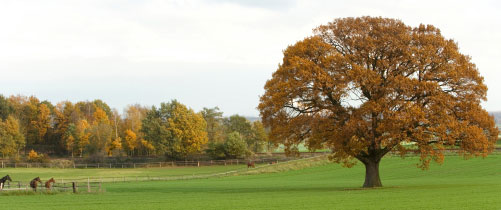 THE SECRET PRIZE GETS FIRST CAREER STAKES WIN IN GARY & SHARILYN BLATNER MEMORIAL DERBY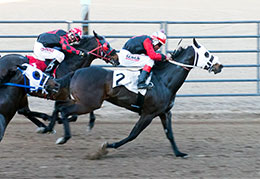 POCATELLO, ID—MAY 22, 2022—
Fastest qualifier
The Secret Prize
won with authority under jockey Jesus Canales to get his first career stakes win in the $25,245 Gary & Sharilyn Blatner Memorial Derby at Pocatello Downs on Sunday.
Saddled by leading trainer Mark Hanson The Secret Prize competed the 350 yards in... Read More


CHAMPION TRAINER, JASON OLMSTEAD, SENDS OUT REMINGTON DERBY FASTEST QUALIFIER POLITICAL SPEED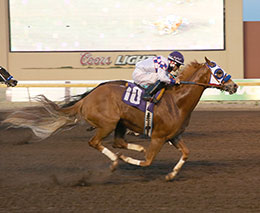 OKLAHOMA CITY, OK–APRIL 3, 2022–
Political Speed has a conservative bankroll compared to many of the other 36 horses that competed in Sunday's Remington Park Derby trials, but that didn't stop this gelding's hooves from being the fastest qualifier for the finals.
This 3-year-old gelded son of prolific sire Apollitical Jess, out of... Read More


TEXAS-BRED PUTS A RIBBON ON HIS JAMES SMITH VICTORY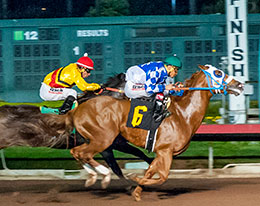 CYPRESS, CA–APRIL 2, 2022–
Jose Adrian Aleman's
A Famous RIbbon
has settled in nicely on the West Coast since arriving via Evangeline Downs and Lone Star Park for the start of the 2022 season.
In his three starts at Los Alamitos this season, the Texas-bred gelding by world champion sire One Famous Eagle has won twice,... Read More


JC WILD KING WINS FOURTH IN ROW, TAKING $68,000 MIGHTY DECK THREE STAKES AT REMINGTON PARK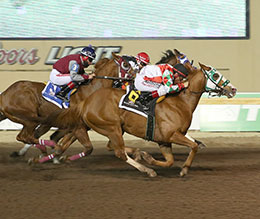 OKLAHOMA CITY, OK—MARCH 4, 2022—
JC Wild King
won his fourth race in a row and sixth in his last seven starts, taking down the top prize in the $68,000 Mighty Deck Three Stakes on Friday at Remington Park, as the heavy 6-5 wagering favorite. The race is for older Oklahoma-breds at 250 yards.
JC Wild King, a 4-year-old son... Read More


AINT SHE TEMPTING WINS GOLDEN STATE DERBY HIGHLIGHTED BY TOP FILLIES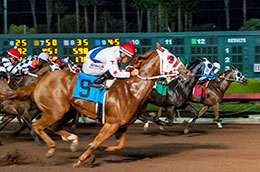 LOS ALAMITOS, CA—AUGUST 15, 2021—
Julianna Hawn Holt's
Aint She Tempting
became only the fifth filly this century to win the running of the Grade 2, $197,700 Golden State Derby thanks to strong finish that helped her edge fastest qualifier Reason To Fly Mv by a head in the 400-yard final on Sunday at Los Alamitos.
The... Read More