Dash For Perks
Dash For Cash x Perks, by Easy Jet
2016 Fee: $2,500 - ICSI Procedure

Standing at
Winner's Circle Equine
Hemet, California

Equine Medical Services
Columbia, Missouri





Spit Curl Jess
Mr Jess Perry x Lil Spit Curl, by On A High
2016 Fee: $2,000

Standing at
Louisiana Center for Equine Reproduction
Opelousas, Louisiana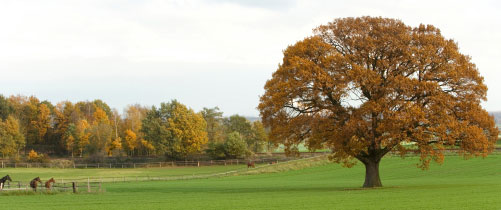 CHAMPION SIRE SPIT CURL JESS DEAD AT 15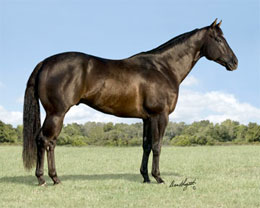 i>OPELOUSAS, LA—SEPTEMBER 29, 2016—AQHA Racing Champion sire and Grade 1 winner
Spit Curl Jess
died last week following a long battle with laminitis.
A 15-year-old son of Mr Jess Perry owned by Fred Stanley of Madill, Oklahoma and Arbuckle Stables of Ardmore, Oklahoma, Spit Curl Jess stood most of his career... Read More


PATRIOT PEARL QUALIFIES TO THE GRADE 3 $235,600 DASH FOR CASH DERBY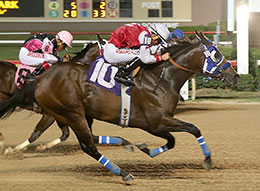 GRAND PRAIRIE, TX—SEPTEMBER 23, 2016-
The field is set for the 19th edition of the Grade 3, $235,600 Dash for Cash Derby to be held Saturday, October 8 at 440 yards. The top 10 horses that posted the fastest times from tonight's trials will advance to the final.
Bobby Simmons Patriot Pearl used a strong finish to win the... Read More


E CATCHING FIRE, FAST PRIZE FERARRI QUALIFY
TO $303,000 BLACK GOLD 350 FUTURITY CHAMPIONSHIP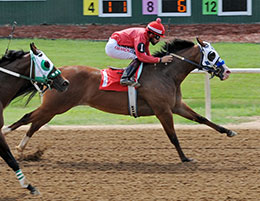 CLAREMORE, OK—SEPTEMBER 10, 2016—
E Catching Fire
and
Fast Prize Ferarri
were both trial winner and qualifiers on Saturday to the $303,000 Black Gold 350 Futurity Championship at Will Rogers Downs.
The 10 fastest qualifiers will return to Will Rogers Downs on Sunday, September 25th to vie for the $121,200 winner's... Read More


ALL AMERICAN APOLLTICAL CHAD: WES GILES SENDS OUT
HIS NEXT STARTER IN THE ALL AMERICAN FUTURITY

By Richard Chamberlain
Q-RACING JOURNAL—AUGUST 29, 2016—Apolltical Chad will go into the All American Futurity (G1) as the richest and most accomplished starter in the field, but also as the only starter coming off a second-place finish in the trials.
In the fourth heat on the first day of trials, Apolltical Chad – winner of... Read More


FERRARI JAMES RALLIES TO GET TOP
IOWA GOLD DERBY CLOCKING

ALTOONA, IA—AUGUST 20, 2016—
Graded stakes-placed
Ferrari James
rallied to defeat multiple stakes winner and hometown favorite The Fiscal Cliff by a nose in the last of three trials for the $75,000-est. Iowa Gold Derby. The pair of three-year-olds clocked the top two qualifying times for the September 3rd final.
Ridden by... Read More